Top ten non-fiction book recommendations from 2022
I've been an avid reader for years. Each year I set myself a target for how many books I want to read and last year was one of my most prolific as I finished 52 books across the 52 weeks of the year. As we head into 2023, I thought I'd summarize ten of my favourite non-fiction reads from the last 12 months.
Each of these books was thought provoking, surprising, entertaining and sometimes all three. Maybe you'll find one that tickles your fancy. Enjoy.
Geopolitics
The Next Civil War: Dispatches from the American Future by Stephen Marche
This book is a bleak forecast of the future of America, exploring the divisions and conflicts that threaten to tear the nation apart. Stephen Marche looks at a range of issues including politics, religion, and social media, and how these are fueling the divisions and tensions within the country. He argues that America is at a tipping point, and unless something is done to address these issues, the country is headed for a new civil war. (Link)
Nothing Is True and Everything Is Possible: The Surreal Heart of the New Russia by Peter Pomerantsev
I actually read two books by Peter Pomerantsev last year; this was my favourite of the two. Pomerantsev explores the bizarre and surreal world of contemporary Russia, where nothing is as it seems and anything is seemingly possible. He delves into the world of propaganda, media manipulation, and political corruption, and how these are shaping the country's future. (Link)
Digital and Crisis Communications
Active Measures: The Secret History of Disinformation and Political Warfare by Thomas Rid
While disinformation and misinformation are probably the hottest those topics have ever been, they aren't by any means a new phenomenon. In this book, Thomas Rid examines the history and tactics of disinformation campaigns and political warfare, and how they have been used to manipulate public opinion and shape global events. He traces the evolution of these tactics over the years, and explores how they are being used today in the digital age. (Link)
True or False: A CIA Analyst's Guide to Spotting Fake News by Cindy Otis
Written by former CIA analyst Cindy Otis, this book is a primer on identifying and combating fake news. Otis uses her expertise and experience to provide practical tips and strategies for spotting misinformation, and explains how to verify information and protect yourself. Along the way she looks at how fake news has spread around events as diverse as Jack the Ripper, the French Revolution and of course within today's landscape. (Link)
Social Warming: The Dangerous and Polarising Effects of Social Media by Charles Arthur
Over the last year I think I've cited this book more than any other in myriad conversations about social media. Charles Arthur does an excellent, plain-language job of exploring the negative effects of social media on society, notably the unexpected ones, and how platforms have systematically failed to address them. Arthur looks at how social media is creating echo chambers and polarizing people, and how it is contributing to the spread of misinformation and hate speech. He also attempts to offer solutions for how to combat these negative trends. (Link)
Biographies
The Storyteller: Tales of Life and Music by Dave Grohl
I'm a huge Foo Fighters fan. I've seen the live more times than I can count and I've fanboyed (is that a word?) over everything the band has done back to around 1996. So, Dave Grohl's autobiography was like catnip for me. In this wonderful, humble collection of stories from his life and career. Grohl shares tales of his childhood, his time in the band Nirvana, and his work with the Foo Fighters, as well as his experiences with music and the music industry. If you don't come out of this book wanting Dave Grohl as your dad, there's something wrong with you. (Link)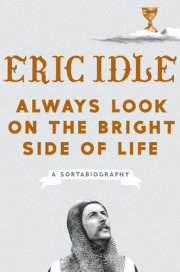 Always Look on the Bright Side of Life: A Sortabiography by Eric Idle
Monty Python comedian Eric Idle reflects on his life and career. He shares stories from his childhood, his time with the Monty Python troupe, and his solo work, and provides insights into the world of comedy and entertainment. Funny, interesting, at times tragic. This is a snapshot of a life I can't begin to imagine and which has had an immeasurable impact on the comedy landscape as we know it. (Link)
Just Ride: Racing 2,725 Miles to Mexico by Ty Hopkins
Amateur cyclist Ty Hopkins recount his experience racing his bike on the 2,000+ mile 2018 Tour Divide race from Canada to Mexico. He shares the challenges and adventures he faced along the way, and the lessons he learned about perseverance, determination, and the power of the human spirit. If you're a cyclist like me, you'll love this and might be tempted (maybe) to try doing something similar. If you're not, like my wife, you'll wonder what the hell is wrong with cyclists. (Link)
Life
How to Be Perfect: The Correct Answer to Every Moral Question by Michael Schur
My wife and I are currently on our fourth or fifth watching of The Good Place, the TV show created by the author of this book – Michael Schur. This book is a humorous guide to living a moral and fulfilling life, with an emphasis on the humour which it uses to good effect (especially during the cameos by actors from the show). Schur uses his expertise in ethics and philosophy to provide practical advice on how to make good choices and live a good life, with an entertaiing twist. (Link)
Work Stronger: Habits for More Energy, Less Stress, and Higher Performance at Work by Pete Leibman
This book by Pete Leibman is a guide to improving productivity and work-life balance. Leibman provides practical tips and strategies for managing your time, energy, and stress, and offers advice on how to boost your performance at work. I read this as I was feeling that my stamina was struggling to keep up with the pace of work and life. Just like Tiny Habits, which I read a couple of years ago, I found a number of small, practical takeaways I could put into practice immediately. (Link)
There you have it. Ten of my favourite non-fiction books from my literary adventures last year. I'm always on the look-out for books to add to my reading list, so if you have any recommendations, let me know!